First off, I completely overlooked adding a blog entry of my last uploads at the beginning of the month. Since I like to have an entry for all my uploads with pics I'll include some pics at the end of this post.
Now for the current updates. I know a while back I said I probably wouldn't recolor anymore clothing but Cali95677 sent a very sweet message and requested some PJs for elders. It was a simple enough request but since most of the elder clothing that maxis offers isn't that great looking I decided to use an adult outfit. So I chose the adult pajama outfit from Glamour Life and recat it for adults and elders. I also decided to do some solid matching recolors of the male outfit and recat that to include elders too. I did solids for the males because some of the prints just didn't look right. Anyway, here's a pic below.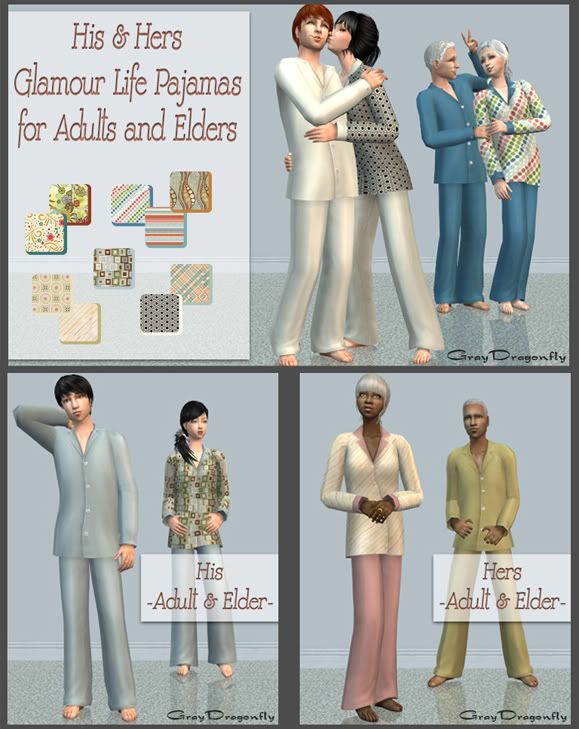 I'm also working on the robe outfits from Kitchen & Bath for children, teens, and adults/elders. So keep an eye out for those. I'll probably have them up starting at the beginning of April. I'm flying back home next week and will be gone for two weeks so I won't be able to finish them until I get back.
And last but never least here are some pics of my previous uploads. Remember the items below have already been published. So if you haven't downloaded them and would like to, check my downloads.
I recolored this door frame mainly because I used the columns in the Newport Cove lot and I wanted to have it on the site incase anyone needed to reupload it the future.