Hello everyone, and welcome to my Sims 4 blog!
I am going to share my first play-game experiences, screens and more with you guys! I will be dividing it up in parts, so you won't have to read a novel. Hopefully, I can give you some helpers and headsups along the way
First of all I want to say, that I have been a little skeptical about this new Sims 4. Not only because of the whole 'no pools and toddlers!' thing, but because the sims look so cartoonish! I mean look at the hair! What's the deal? What's up with taking away the amazing detailed hair that was in Sims 3? I might be biased, but that was pretty much what kept me at bay from getting all too crazy about it in the first place, but I decided that I wanted to keep an open mind and see if they could make it up to me IN the game.
Let's get started now!
CAS Mode:
The Create-a-Sim mode is pretty much like the one we already know from the previous Sims games. Some has had the opportunity to get a demo of the Sims 4 CAS, and to be honest, I do not see any changes between the Demo and the real game (so far!) You can choose making:
Child
Teenager
Young Adult (YA)
Adult
Elder
That is pretty simle, and pretty much how we know the previous games as well. What is the difference here? The biggest difference here, to me, is there are no ages below the 'child' option. I LOVE making toddlers but EA skipped those. All right, so I made a Sim, a young adult named Sungjo Kang. Don't be bothered with the looks of the screenie. I sized it down a bit.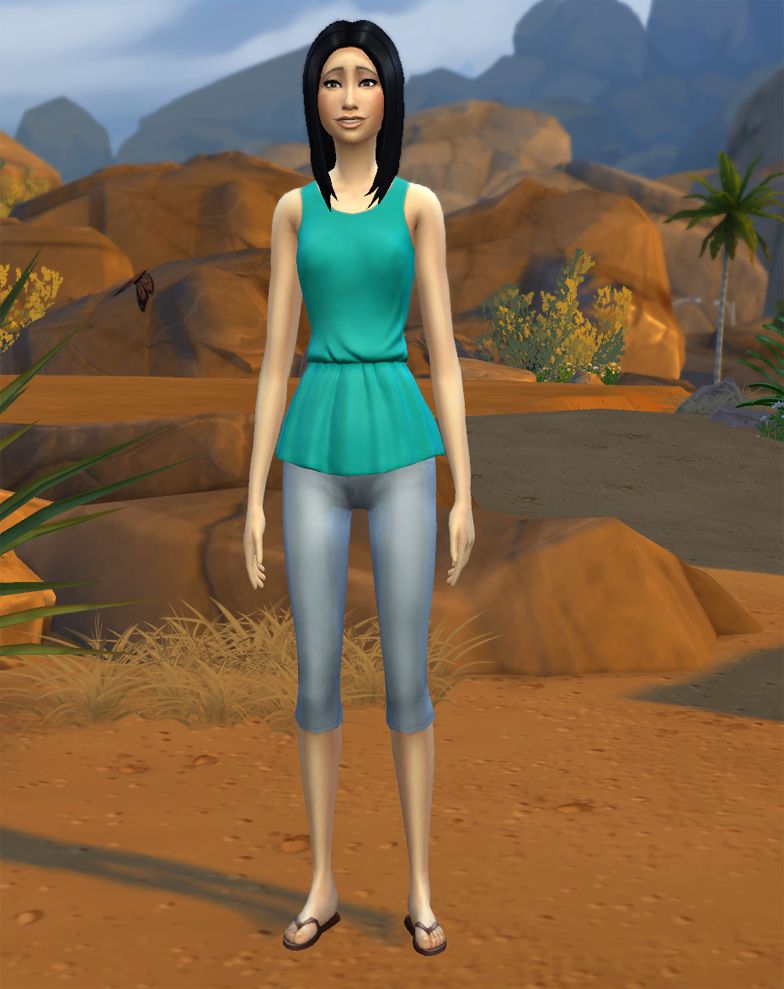 I gave her the main aspiration 'Successful Lineage'. Why? I LOVE BABIES and KIDS! Her other traits are: Perfectionist, artistic, neat and 'home-sim' (I think that is what you would call it in English)
As you can see, I moved her in Oasis Springs. I don't know, something about this desert landscape talked to me somehow. Yup! So I moved her in, and by the look of the house, it was just like every other starter home EA has given us so far. Small, cheap, bad furniture and so on. Yup, nothing new on that account.
Job and career(s)
Next I wanted to give this poor lady a job. Everyone knows you can't pay your bills and buy better furniture with no money/simoleons. So taking a quick look at the computer, I found the new jobs. Some of them has been with ther series since the very start.
Entertainer: Musician / Comedian (seems new to me!)
Writer: Author / Journalist (we know the author from Sims 3, but it wasn't a job-job)
Painter: Master of Real / Patron of the Arts (This seems brand new to me, and I love it!)
Secret Agent: Diamond Agent / Villian (awesome!)
Criminal: Boss / Oracle
Astronomer: Space Ranger / Smuggler (we know the space ranger from the previous games - as the last job in the military career)
Culinary: Chef / Mixologist (mixologist = bartender if someone should be in doubt. This is also a seemingly new option. The Sims 3 had the skills, but you couldn't make a living out of it. Awesome newness!)
Tech Guru: eSport Gamer / Start-up Entrepeneur (eSport has become quite world-wide, so cool they included this!)
If you ask me, they are all insanely interesting, and I was SHOCKED with surprise when I saw you could choose to become a painter. So what did I chose? The Painter of course! Have to start somewhere, right?
What surprised me the most was how she was going to move up in her career. Like in Sims 3 (and the previous games as well) they had to improve their skills, but not only that. I had to make her look at 3 paintings to get a checkmark on that post in order to get promoted. The next she had to make some research on the computer for art. HOW COOL IS THAT? VERY COOL!
We all know with a promotion comes a bonus. There still does, but sometimes you also get a new thing. When Sungojo was promoted for the 3rd or 4th time, she got a simoleon bonus and a new easel!
When you sim goes to work you cannot see their needs or anything else. However, by clicking on the small icon of your sim in the bottom of the screen, there is a small icon within the picture of your sim with two sims. By clicking on that, you cna decide how they should work. Like; slacking, be off early, work hard etc. Just like in the Sims 3.



Moods and skills
One thing that caught my attention almost by the instant, was the many different kinds of moods your sim can have. I noticed, that suddenly Sungjo's changed from 'comfy' to 'inspired' and she was able to paint other kinds of paintings. For example, as she improved her painting skill, she was suddenly able to paint 'realistic' 'impressionistic' 'pop' and much more! I like this feature a lot! What is new about the painting as well, is the fact, that unlike in the previous games, you didn't pay anything to start on a painting. Now you can start on 'small' 'medium' and 'large' paintings, but they cost between 25 and 100 simloeans to start. At first I was really annoyed with it, but then I thought about it. It is pretty realistic that there are some costs about it such as; canvas and colours and so on. Yeeeep~
Another things that I find pretty cool, is all the moods your sim can have. With them comes a lot of new interactions. SungJo suddenly came into an 'confident' mode, and then by clicking on the easel, she could paint a 'confident painting'. Now that's something new!
The moods also affects the interactions with the sims around your sim. If they are embarrassed or in a bad mood, it will affect the conversations they have with other sims.
By taking a 'refreshing' shower, my sim got into an 'energic' mood, which made her want to work out. By taking a bubble bath they will get into a 'playful mood'. This is pretty cool, right?
Short cuts in-game
Something that I noticed right way was, there were no panel showing my sim's needs and such. Usually we have this big bar in the bottom of the screen, but this time, EA made sure to put in shortcuts. So this time we can choose what we want to see.
Aspiration - G
Career - J
Skills - L
Relationships - R
Inventory - I
Simology - Y
Needs - O
MY ups and downs so far:
Ups:
It is really cool that everything around your sim affects the sim's mood.
The many different intereactions your sims can have with other sims depending on the mood.
Downs:
The only down thing I have so far, is that when your sim goes to work, you won't be able to see the sims' needs, and you have aboslutely nothing to do before they return.
Every time your sim goes to town or to a new place, there is loading time. It goes relatively fast though.
I think this'll be it for now. I will return with more later!
Happy simming!