News post
Published: Feb 15, 2009
Comments: 0
Hi everyone, I haven't made ANY creations since I can't even remember when! It's insane....I've been so busy with school and life that I couldn't bring myself to create any. Also, I know this will disappoint some but I've started playing Sims 2 now because I have a super computer haha that can actually play it. So unfortunately that means I probably won't be making any more Sims 1 creations. Sorry!
Also I will start to upload some new profile pictures and banners since TSR's format changed ;)
I've recently just uploaded a set of eyeshadows called MACpigments for Sims 2. So I'm excited to see those up and hopefully you guys will like them! :)
Here's a preview image: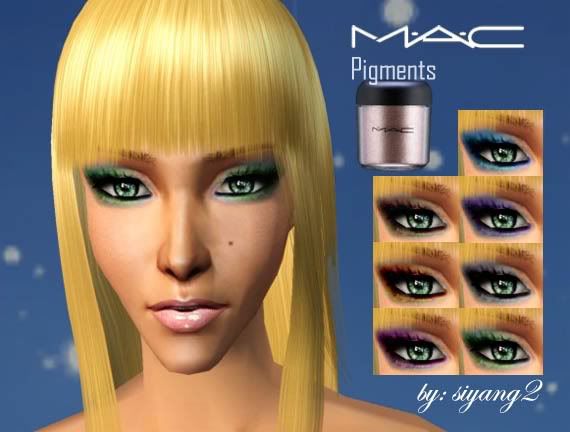 Happy Simming everyone!
News post
Published: Feb 15, 2008
Comments: 1
Alrighty, I've submitted a few new skins to TSR around end of December. But they haven't showed up yet. Oh well, I'll see what happens. Anyways, I've got two new skins for fat females coming (GUESS and Chanel) so it's kind of in the Branded series but not for kids. I've also got a male head coming as well. Hopefully those will show up soon, since it's been 3 months since I've posted them... Here are some previews:
News post
Published: Jan 02, 2008
Comments: 0
Hi, everyone! I just got my new mini-site today. I will post all my up coming creations in my blog from now on. Currently, I'm working on a lot of skin requests. Also, there should be a few fat body type skins coming. Stay tuned for it!
Happy New Years!